Roll over image to zoom in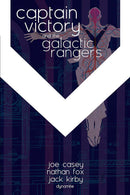 Description
Captain Victory is the greatest space hero of all! When the fearsome warrior Mekkanos finally tracks down his ship, the valiant captain pays the ultimate price... but his death is only the beginning! Having the most strategic mind in the entire Ranger Corps, he's far too valuable to risk total annihilation, and his superiors long ago enacted a contingency plan: maintain clone bodies, that - with a memory download - can be sent into space to die again and again and again. Only this time, two copies were created, the memory downloads incomplete and bodies ejected into far-flung time and space. Can a teenage, amnesiac Victory survive the dangers of 1970s New York City? Can a scarred, hulking Victory survive a hazardous alien landscape millions of light-years away? The race is on, as the loyal crew of the Dreadnaught: Tiger embark on a mind-blowing rescue mission!
Born from the fertile imagination of comic book legend Jack Kirby, Captain Victory bounds into cosmic adventure anew courtesy of writer Joe Casey (Sex, Uncanny X-Men) and artist Nathan Fox (Blue Estate, Haunt). Boldly experimental in story and design, this worthy addition to The King's legacy features guest art contributions from Farel Dalrymple, Nick Dragotta, Ulises Farinas, Michel Fiffe, Jim Mahfood, Benjamin Marra, Dan McDaid, Grant Morrison, Jim Rugg, and Connor Willumsen. This volume collects the complete six issues of Casey's critically acclaimed, star-studded reimagining, plus sixteen pages of never-before-seen bonus material and an all-new introduction by the author.
Payment & Security
Your payment information is processed securely. We do not store credit card details nor have access to your credit card information.