Roll over image to zoom in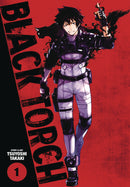 Description
Although he may appear rough-and-tumble, Jiro Azuma's compassionate side emerges when it comes to the furry critters he can communicate with. But Jiro's soft spot for animals gets him in major trouble when a suspicious stray cat fuses with him, granting him exceptional power but also dragging him into humanity's hidden battle against powerful Japanese spirits, mononoke.
For older teen audiences.
Payment & Security
Your payment information is processed securely. We do not store credit card details nor have access to your credit card information.