Roll over image to zoom in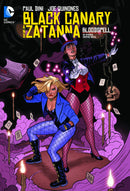 Description
A year ago, Black Canary infiltrated a gang of female criminals set to pull a dangerous heist at a Las Vegas casino. Its leader was skilled in hand-to-hand combat and had more than a passing interest in black magic. Rather than be captured by Canary or the law, she went to her death, vowing to get revenge on Canary! Now, one year later, death stalks those gang members, and Canary must turn to her friend Zatanna to help investigate.
This title also includes a special sketchbook section.
Payment & Security
Your payment information is processed securely. We do not store credit card details nor have access to your credit card information.