Roll over image to zoom in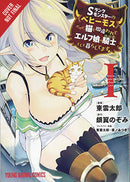 Description
In this new series, a knight finds himself reincarnated as a behemoth, one of the most powerful monsters in the world, and when he meets a beautiful elf girl, he's ready to fight at her side. Problem is, a baby behemoth looks an awful lot like...a housecat?!
For readers ages 13 and up.
Payment & Security
Your payment information is processed securely. We do not store credit card details nor have access to your credit card information.