Roll over image to zoom in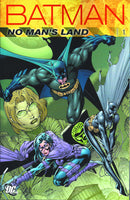 Description
Written by BOB GALE, DENNIS O'NEIL, GREG RUCKA, DEVIN GRAYSON, IAN EDGINTON and others
Art by ALEX MALEEV, ROGER ROBINSON, DALE EAGLESHAM, FRANK TERAN, JASON PEARSON, JON BOGDANOVE, PHIL WINSLADE and others
Cover by ALEX MALEEV
On sale NOVEMBER 16   544 pg, FC, $29.99 US
For the first time, the classic Batman epic is collected in full, including chapters that were never before collected, starting with these stories from BATMAN: SHADOW OF THE BAT #83-86, BATMAN #563-566, DETECTIVE COMICS #730-733, AZRAEL: AGENT OF THE BAT #51- 55, BATMAN: LEGENDS OF THE DARK KNIGHT #116-118, BATMAN CHRONICLES #16.
Months after a cataclysmic earthquake, the last remaining citizens of Gotham City live amid a citywide turf war in which the strong prey on the weak.

Payment & Security
Your payment information is processed securely. We do not store credit card details nor have access to your credit card information.