Roll over image to zoom in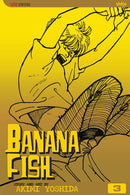 Description
VICE CITY: NEW YORK IN THE 80s...
The idea that Ash Lynx would be more controllable in jail has worked out for nobody, because in between gang rape and random assaults, Ash has not only managed to get Eiji to carry out info to his allies in Chinatown, but he's met cellmate Max Lobo, another survivor of his brother's unit in Vietnam. That means as soon as Ash makes bail, he's only headed for bigger trouble. But what's more dangerous for him, confronting Papa Dino or his real father...?
Payment & Security
Your payment information is processed securely. We do not store credit card details nor have access to your credit card information.