Roll over image to zoom in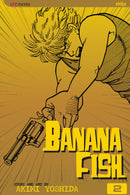 Description
BACK IN PRINT- The Manga that inspired the AMAZON PRIME series!
VICE CITY: NEW YORK IN THE 80s
When Dino arranges Ash's frame-up for the murder of a man he had motive to kill twenty times over, an "accident" behind bars is on the agenda. But in the same prison is Max Lobo, a journalist himself on the trail of the enigma code-named Banana Fish...
Older Teen Audience.

Payment & Security
Your payment information is processed securely. We do not store credit card details nor have access to your credit card information.