Roll over image to zoom in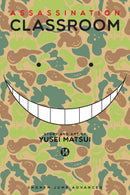 Description
Lowly Class E and elite Class A compete for the most customers at their school festival booths. So far, the students of Class E are holding their own, despite their location on the mountaintop. Then a parade of familiar faces, some welcome and some...not so much...drop by with surprising consequences. Will Principal Asano's son Gakushu be able to maintain his position as the illustrious leader of Class A? Who could possibly replace him in hopes of leading the students to victory and the subjugation of the weak...?
For older teen audiences.
Payment & Security
Your payment information is processed securely. We do not store credit card details nor have access to your credit card information.