Roll over image to zoom in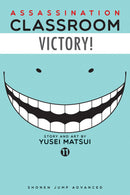 Description
Class 3-E student Isogai breaks the school rules by working part-time to help support his family. When Gakushu and the Big Four students find out, they use his secret as leverage to force 3-E to participate in a bizarre sports day competition. Soon it's time for the school's midterm competition as well, but when some 3-E students accidentally injure the elderly owner of a day care, Koro Sensei forbids them from studying and orders them to replace him until he recovers! Assassination is one thing, but babysitting little kids...?!

For older teen audiences.
Payment & Security
Your payment information is processed securely. We do not store credit card details nor have access to your credit card information.