Roll over image to zoom in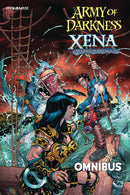 Description
The cross-over no one expected is back for an Omnibus Encore, combining three volume into one epic book! Too big for the movie or television screen, Dynamite presents the ultimate, kicka** crossover tale as Ash and his Army of Darkness meets Xena, the Warrior Princess!

Chapter 1: Written by John Layman and illustrated by Miguel Montenegro, we begin with Ashley J. Williams transported to the world of Xena and Gabrielle! Throw in the Necronomicon and an evil, little Ash taking charge of a group of fairies (the winged kind) and you've got yourselves one rollicking adventure!

Chapter 2: After the events of their last meet-up, Ash is back in "real" time and Xena and Gabby are back where they started, but they're not going to stay there, not if the Necronomicon has anything to do with it!

Chapter 3: Xena, Warrior Princess, has toppled nations through the force of her will. She's captained the deadliest pirate crew ever to sail the seas. She even turned her back on her past, seeking redemption for her darker acts alongside her partner Gabrielle. And yet, despite her propensity for defeating all odds, her thousand-strong army has fallen to an implacable and ancient evil. Her only recourse? To use the dreaded Necronomicon to summon Ash Williams - the wise-ass, butt-kicking, smooth-talkin' demon-killer from the future - for aid! But how can Xena save the world when that chainsaw-wielding knucklehead's every temporal mishap threatens to unravel time itself?
Payment & Security
Your payment information is processed securely. We do not store credit card details nor have access to your credit card information.