Roll over image to zoom in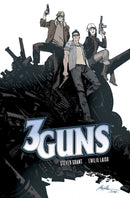 Description
WHY WE LOVE IT: Creator Steven Grant (DAMNED, Punisher: Circle of Blood) returns along
with original series cover artist Rafael Albuquerque (American Vampire) and interior artist Emilio Laiso (Hack/Slash) for more action-comedy thrills!
WHY YOU'LL LOVE IT: If you're a fan of the hit 2013 summer blockbuster 2 Guns starring Denzel Washington and Mark Wahlberg, find out what happens next! Or if you like stories featuring reluctant, unlikely partners like 48 Hours, Lethal Weapon, or Die Hard with a Vengeance, you'll like 3 GUNS!
WHAT IT'S ABOUT: Trench was a deepcover DEA agent. Steadman was an undercover Naval Intelligence officer. Now, after racing headlong across the Southwest, desperately outrunning Feds and mobsters while trying to clear their names, Trench and Steadman are pulled into another impossible situation: brokering gun deals between the Russians and anti-government revolutionaries...from opposite sides. And little do they know, a Third Gun has her eyes set on the ultimate prize-and she won't go down without a fight. Collects 3 GUNS #1-6.
Payment & Security
Your payment information is processed securely. We do not store credit card details nor have access to your credit card information.