Roll over image to zoom in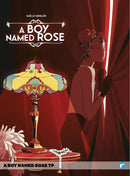 Description
Paris. The 1920s. Rose is a boy and, like all the girls he's spent time with since he was born, he wants to dance at "Le Jardin", the cabaret managed by his mother. As Rose blossoms into a 19 year old young man, he discovers love and tries to find his place in a society that's not ready to welcome true love between two men with open arms.

PRIDE Month is there and we decided to celebrate Love like there's no tomorrow! Created and beautifully drawn by Gaelle Geniller, A BOY NAMED ROSE is going to make you fall
in love with this story, set in Art Deco Paris and where a young man discovers who he really is in a place filled with entertainme nt and drama. What is Rose's place in the world? Is he just a boy? Is he a girl inside? Rose just wants to be accepted for who he really is and live, love and dance as free as he can be. A beautiful LGBTQIA+ tale from a time where loving different ly was a challenge, A BOY NAMED ROSE will move you, in all its subtleness and tenderness.
Payment & Security
Your payment information is processed securely. We do not store credit card details nor have access to your credit card information.